AGRICULTURE PROBLEMS
1. Billionaires are getting federal farm subsidies
The Environmental Working Group (EWG) put together a list of 50 billionaires on the Forbes 400 List of Wealthiest Americans who have received federal farm subsidies.
The list includes billionaire families like the Pritzker Family whose company Chicago Mill & Lumber received $1,604,288 in farm subsidies from 1996 to 2006.
---
Forbes Fat Cats Collect Taxpayer-Funded Farm Subsidies
"The billionaires who received farm subsidies between 1995 and 2012 have a collective net worth of $316 billion, based on the Forbes magazine estimates.
Many of these same billionaires may have also received crop insurance subsidies, but taxpayers have no way of knowing because current law prohibits the disclosure of the identities of crop insurance policyholders.
According to EWG's analysis, more than 40 billionaires own properties that grow crops that are among the most likely to be insured through the federal crop insurance program, including corn, soybeans, wheat, cotton and sorghum.
From 1995 to 2012, these five crops account for nearly $44 billion in premium subsidies – about 82 percent of total crop insurance subsidies and more than two-thirds of all acres enrolled in the crop insurance program.
On average, taxpayers cover 62 percent of the cost of crop insurance premiums. In 2011 alone, some 26 policyholders received more than $1 million each in premium support, according to U.S. Department of Agriculture data analyzed by EWG.
More than 10,000 policyholders received more than $100,000 each in premium support that year. In 2012, the USDA's Risk Managment Agency reported the crop insurance program cost taxpayers $14.1 billion.
Like other farm subsidies, crop insurance subsidies overwhelmingly flow to the largest and most successful farm businesses.
According to data EWG compiled from USDA, the largest 1% of farm businesses received about $227,000 a year in crop insurance premium support in 2011 – while the bottom 80% received only about $5,000 apiece."
---
Meet America's Elite Farm Subsidy Club
"Since the inception of farm subsidies, high-powered officials and celebrities have received lavish payments. OpenTheBooks issued a report in 2011 that found government-funded celebrity farmers included former NBA star Scottie Pippen, media mogul Ted Turner, Tony Award-winning rock icon Bruce Springsteen, and fellow rocker Jon Bon Jovi.
Last year, even billionaire businessman Glen Taylor – the owner of the Minnesota Timberwolves – received $116,502 in federal farm subsidies. Does Mr. Taylor, No. 350 on the Forbes 400 list of wealthiest Americans, really need taxpayer funding for his egg and dairy farm in Iowa?
Farm subsidies were never intended to become welfare for the wealthy. Today these subsidies have grown so lucrative that wealthy investors, large corporations, and farm-estate heirs use taxpayer money to maximize their personal returns.
American Transparency, released its OpenTheBooks oversight report, Harvesting U.S. Farm Subsidies. The report catalogues $13.2 billion in these subsidies flowing to nearly 958,000 recipients in fiscal year 2017. Using our interactive mapping platform at OpenTheBooks.com, taxpayers can search all recipients receiving $100,000 or more in FY2017 farm subsidies by ZIP Code.
Taxpayers even forked over $1.8 billion to pay farmers not to farm their land.
Why can't Congress rein in the largess and stop farm subsidy abuses? Well, our auditors found 12 members of Congress collected up to $637,059 in subsidy payments last year alone.
In fact, lawmakers crafting the policies on the agriculture committees are, many times, large recipients of their subsidy.
The list includes Reps. Doug LaMalfa (R-Calif.) with $1.3 million, Vicky Hartzler (R-Mo.) with $20,420, Robert Gibbs (R-Ohio) with $7,660, and Sens. Charles Grassley (R-Iowa) with $58,210, and Deb Fischer (R-Neb.) with $16,190 (payments between 2015-2017)."
---
"A 52-story skyscraper on Park Avenue in New York City is the world headquarters for JPMorganChase, the largest bank in the U.S. But according to data from the Department of Agriculture, it's also the home of one of 850 "farmers" who live in Manhattan.
Between 1995 and 2016, those "farmers" received almost $16 million in federal farm subsidies. The map below plots their locations.
In theory, farm subsidy recipients must be "actively engaged" in farming. But the Government Accountability Office recently reported that in 2015, almost one-fourth of farm subsidy recipients did not personally provide labor on the farm.
EWG's analysis of USDA data found that overall, nearly 18,000 people who received subsidies in 2016 live in the nation's 50 largest cities. In 2015 and 2016, they received $63 million in farm subsidies. And 245 of them received taxpayer-funded farm subsidies or disaster payments for 32 straight years."
---
Manhattan 'Farmers' Receive Budget Boondoggle Award
"A farm policy that gives hundreds of thousands of dollars in federal subsidies to Manhattan "farmers" is the recipient of the latest Budget Boondoggle Award from Republican members of Congress.
More than 300 New Yorkers, including Mark Rockefeller, a son of Nelson Rockefeller, and a former CEO of The Seagram Company Ltd., Edgar Bronfman, received farming subsidies from the federal government in 2005, according to the Republican caucus of the Committee on the Budget.
The top recipient from New York City collected nearly $214,000 in subsidies between 2003 and 2005, according to the most recent data available."
---
Mapping The U.S. Farm Subsidy $1M Club
"Since 2008, the top 10 farm subsidy recipients each received an average of $18.2 million – that's $1.8 million annually, $150,000 per month, or $35,000 a week. With the median household income of $60,000 a year, these farmers received more than 30 times the average yearly income of U.S. families."
---
2. The Government is Paying Elite Farms Not to Grow
The USDA is spending billions of tax payer dollars to subsidize corporate farms that don't do any farming, and haven't even planted any crops in years.
A report from the U.S. Government Accountability Office found that the "USDA paid $10.6 billion —almost one-fourth of total direct payments made from 2003 through 2011 —to producers who did not, in a given year, grow the crop associated with their qualifying acres, which they are allowed to do.
About 2,300 farms (0.15 percent of farms receiving direct payments) reported all their land as FALLOW," and producers DID NOT PLANT ANY CROPS on this land for each year FOR THE LAST 5 YEARS, from 2007 through 2011; in 2011, these producers received almost $3 million in direct payments.
Direct payments do not appropriately distribute benefits consistent with contemporary assessments of need. For example, they are CONCENTRATED AMONG THE LARGEST RECIPIENTS BASED ON FARM SIZE AND INCOME; in 2011, the top 25% of payment recipients received 73% of direct payments."
---
City-Dwelling Landowners Get Paid Millions Not to Farm Their Secondary Estates
"The government paid millions of dollars last year in farm subsidies to wealthy city-dwellers – many of them receiving taxpayer dollars not to farm their rural country estates.
290 people in New York City received farm subsidies in 2010 and raked in a total of $880,887, 734 "farmers" in Chicago got $2,173,344 in federal subsidies, and 203 people in Miami got $2,472,071 worth. On the West Coast, 179 people in San Francisco were paid $1,094,172.
One of those New York City "farmers" is Mark Rockefeller, son of Nelson Rockefeller and heir to one of the most celebrated fortunes in American history.
Rockefeller, who lives in Manhattan, has received nearly $330,000 in taxpayer money over the past 10 years for his "farm" on the Snake River in Idaho. Rockefeller's property in Idaho includes the upscale South Fork Lodge where visitors pay $500 a day just for fly fishing."
---
3. Corporate Subsidies for the Rich are Destroying Family Farms
How Farm Subsidies Became America's Largest Corporate Welfare Program
"Farm subsidies are distributed not on the basis of need, but with regard to two other criteria: (1) the type of crop grown, with 90 percent of all farm subsidies awarded to farms that produce wheat, corn, cotton, rice and soybeans,3 and (2) the amount of crops grown, with farmers who grow more crops receiving higher subsidies.
Therefore, large farms and agribusinesses–which, as a result of economies of scale, are also the most profitable farms–are eligible for massive subsidies as long as they grow the crops the government wants them to grow.
Meanwhile, small lower-income farms growing the same five crops receive only a fraction of what large farms receive; and farmers planting the 400 other crops, regardless of their need, are completely excluded from most farm subsidies.
The greatest loophole is the fact that subsidy limits apply to people, not farms; this applies to individuals as well as to corporations and partnerships. Therefore, large farms and agribusinesses can simply sign up each of their employees for a subsidy, and farmers in some cases can sign up their spouses and children to maximize the total subsidy to a given farm.
Furthermore, the limits shown for individual payments can be doubled if they are spread out across up to three properties. For example, an individual who receives the maximum PFC subsidy of $40,000 for one property can also receive up to $20,000 for each of two additional properties, for a total of $80,000 in subsidies.
Farm owners have taken advantage of this law by dividing an existing farm into several separate farms and then having its workers collect a separate subsidy for each farm. A case in point is Tyler Farms in Arkansas, which collected $23.8 million in farm subsidies between 1996 and 2000 (the largest amount granted to any farm in America) by dividing itself into 66 legally separate "corporations" to maximize its farm subsidies.
The failure of Congress and government entities to enforce payment ceilings, combined with subsidy limits that are full of loopholes, has created a system that has channeled billions of dollars in "support" to the largest and most profitable farms as long as they grow what the government wants them to grow.
Under this mistargeted system, agriculture policy has become America's largest corporate welfare program. According to the Environmental Working Group, two-thirds of all farm subsidies go to the top 10 percent of subsidy recipients while the bottom 80 percent of recipients receive less than one-sixth of farm subsidies. A full 60 percent of America's farmers do not qualify for any assistance.
In 2000 alone, more than 57,500 farms received subsidies totaling over $100,000, and subsidies of at least 154 farms topped $1 million.
Among these beneficiaries are fifteen Fortune 500 companies, including Westvaco, Chevron, and John Hancock Mutual Life Insurance, which receive as much as 58 times as much as the median annual subsidy of $935.
The current system has caused hardship not only for the taxpayers who pay this enormous subsidy tab, but also for unsubsidized farmers with small farms. Many of the largest, most profitable farms and agribusinesses that have received the lion's share of subsidies have used these funds to buy out smaller farms. In what one agriculture official calls the "plantation effect," family farms with less than 100 acres of land are being bought out by larger agribusinesses, which then convert them into tenant farms. To date, three-quarters of the nation's rice farms have already become tenant farms, and the ownership of other types of farms is beginning to trend in that same direction.9
In other words, far from saving America's family farms, the current farm subsidy system is destroying them."
---
4. Family Farms are Being Taken Over by Big Corporations
The decline of the small American family farm in one chart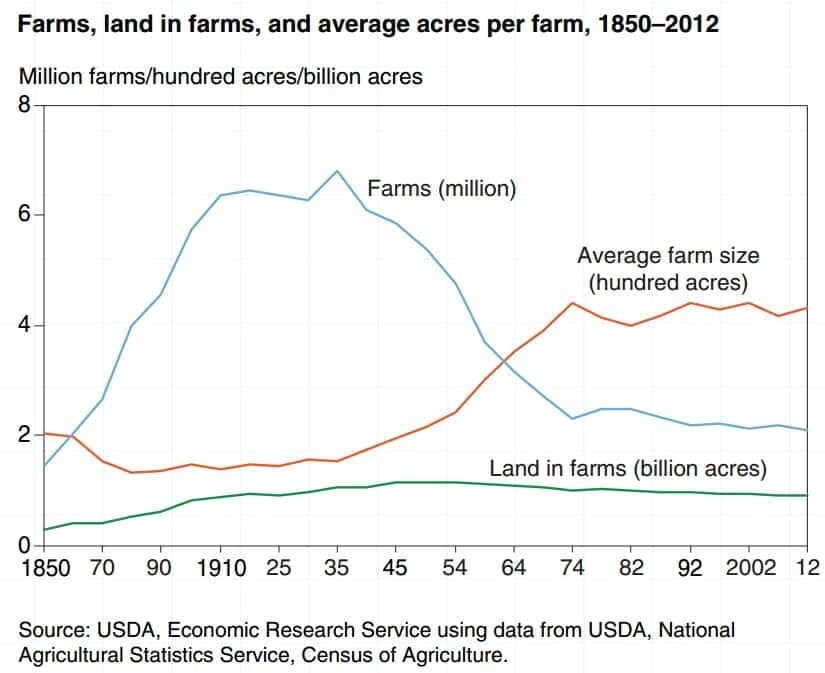 "Peak farm, as it happens, happened almost 80 years ago in the United States. The number of farms in the country has fallen by some 4 million between then and now — from more than 6 million in 1935 to roughly 2 million in 2012. Meanwhile, the average farm size has more than doubled, and the amount of total land being farmed has, more or less, remained the same.
The big farms have only gotten bigger over the years. As of 2011 — as is true with much of the country's wealth — the vast majority of America's farm land was controlled by a small number of farms. The top 10 percent of farms in terms of size account for more than 70 percent of cropland in the United States; the top 2.2 percent alone takes up more than a third."
---
"According to the Census of Agriculture," a United States Department of Agriculture report revealed, "the number of U.S. farms fell sharply until the early 1970s after peaking at 6.8 million in 1935…By 2002, about 2.1 million farms remained."
"The American Farmland Trust estimates an acre of U.S. farmland goes into development every two minutes, while Environment Colorado estimates the state lost 1.26 million acres of agricultural land between 1997 and 2002," The Denver Post reported. "This loss averages 690 acres per day in Colorado, the third highest in the nation."
Statistics Canada said the situation there is similar, as the amount of farms surveyed by the census "continues to drop, according to data from the 2006 Census of Agriculture, declining 7.1% to 229,373 farms over the five-year period between the censuses…This represents 17,550 fewer farms than in 2001.
As small family farms are squeezed out of existence, investment groups and equity firms are buying more and more land, according to a Reuters article.
In the agricultural industry, certain products can be produced cheaply in large quantities, stored over long periods, and shipped easily. These items must be heavily subsidized to keep prices artificially low on the world market. Yet subsidies—money paid to industries to produce goods more cheaply for a nation so that it can better compete in the global market—can harm the family farm.
"Since 1970, [U.S.] farm subsidies have totaled $578 billion, according to the Historical Tables of the U.S. budget…Roughly 90% of commodity payments go to farmers raising grains and oilseeds (wheat, corn, sorghum, soybeans), cotton and rice; they represent about a fifth of farm cash receipts," a Newsweek article stated.
Subsidies can lead to chronic overproduction and dumping of surpluses on the global market, which often forces smaller, non-competitive producers out of business.
The abandoned land is then swallowed by larger conglomerate farms."
---
5. Farmer Suicide
Why are America's farmers killing themselves?
"The suicide rate for farmers is more than double that of veterans.
A study by the Centers for Disease Control and Prevention (CDC) suggested that male farmers in 17 states took their lives at a rate two times higher than the general population in 2012 and 1.5 times higher in 2015. This, however, could be an underestimate, as the data collected skipped several major agricultural states, including Iowa. Rosmann and other experts add that the farmer suicide rate might be higher, because an unknown number of farmers disguise their suicides as farm accidents.
The US farmer suicide crisis echoes a much larger farmer suicide crisis happening globally: an Australian farmer dies by suicide every four days; in the UK, one farmer a week takes his or her own life; in France, one farmer dies by suicide every two days; in India, more than 270,000 farmers have died by suicide since 1995.
---
People started talking about farmer suicide during the 1980s farm crisis. By the 1960s, technical innovations had made farming easier, and farmers were expanding operations by taking out loans. But the 1980s brought two droughts, a national economy in trouble and a government ban on grain exports to the Soviet Union. Farmers started defaulting on their loans, and by 1985, 250 farms closed every hour. That economic undertow sucked down farms and the people who put their lives into them. Male farmers became four times more likely to kill themselves than male non-farmers, reports showed. "In the West, the guys were jumping off silos," says Leonard Freeborn, a horse farmer and agricultural consultant.
Since that crisis, the suicide rate for male farmers has remained high: just under two times that of the general population. And this isn't just a problem in the U.S.; it's an international crisis. India has had more than 270,000 farmer suicides since 1995. In France, a farmer dies by suicide every two days. In China, farmers are killing themselves to protest the government's seizing of their land for urbanization. In Ireland, the number of suicides jumped following an unusually wet winter in 2012 that resulted in trouble growing hay for animal feed. In the U.K., the farmer suicide rate went up by 10 times during the outbreak of foot-and-mouth disease in 2001, when the government required farmers to slaughter their animals. And in Australia, the rate is at an all-time high following two years of drought.
---
Midwest farmers face a crisis. Hundreds are dying by suicide.
"U.S. farmers are saddled with near-record debt, declaring bankruptcy at rising rates and selling off their farms amid an uncertain future clouded by climate change and whipsawed by tariffs and bailouts.
Isolated, and with limited access to mental-health care, hundreds are dying by suicide.
Farmers are among the most likely to die by suicide, compared with other occupations, according to a January study by the Centers for Disease Control and Prevention. The study also found that suicide rates overall had increased by 40% in less than two decades.
The problem has plagued agricultural communities across the nation, but perhaps nowhere more so than the Midwest, where extreme weather and falling prices have bludgeoned dairy and crop producers in recent years.
More than 450 farmers killed themselves across nine Midwestern states from 2014 to 2018, according to data collected by the USA TODAY Network and the Midwest Center for Investigative Reporting. The real total is likely to be higher because not every state provided suicide data for every year and some redacted portions of the data.
The deaths coincide with the near-doubling of calls to a crisis hotline operated by Farm Aid, a nonprofit agency whose mission is to help farmers keep their land. More than a thousand people dialed the number in 2018 alone, said spokeswoman Jennifer Fahy."
---
Farmer suicide: the topic few will discuss
"Research by four Cal Poly San Luis Obispo agriculture communication students found that suicide rates in agriculture are five times higher than the national average — and shockingly, even double the rate for military veterans. Among the reasons: net farm income worries (the leading cause), social isolation among farmers, pesticide-induced issues, and the ever-present stigma related to mental health issues in this country.
Other findings from the students' report suggest:
Suicide rates in agriculture are higher than for any other occupation: 84.5 per 100,000 people, according to the Centers for Disease Control.
Studies suggest suicide rates may be higher as some deaths are reported as accidents rather than suicides.
Not all farm states are included in CDC farm suicide statics (California, Iowa, Illinois, and Nebraska are excluded), further skewing the numbers.
Suicide rates appear to be higher in the Midwest than in California because of the diversified nature of agriculture in California and the greater likelihood of financial profitability among crops grown in the Golden State.
Access to mental health services remain limited to farmers because of the rural nature of their occupations.
Suicide rates are about 50 percent higher today than they were during the farm crisis of the 1980s.
In the 2008 legislation, the Farm and Ranch Stress Assistance Network program would have created a national crisis hotline for farmers, as well as state and regional counseling services. It was modeled after "Sowing Seeds of Hope," a program that successfully reduced farmer suicide rates in seven Midwestern states until 2014. The federal program in the 2008 legislation would have cost $18 million annually, and was never funded.
"Critics argue that the emotional and economic toll of farmers taking their own lives is greater than the $18 million it would have cost to fund the program," the students noted in their research paper."
---
6. Seeds of Suicide
Seeds of Suicide by Vandana Shiva
Patents on seeds are unjust and unjustified. A patent or any intellectual property right is a monopoly granted by society in exchange for benefits. But society has no benefit in toxic, non-renewable seeds. We are losing biodiversity and cultural diversity, we are losing nutrition, taste and quality of our food. Above all, we are losing our fundamental freedom to decide what seeds we will sow, how we will grow our food and what we will eat.
Seed as a common good has become a commodity of private seed companies. Unless protected and put back in the hands of our farmers, it is at risk of being lost forever.
Across the world, communities are saving and exchanging seeds in diverse ways, appropriate to their context. They are creating and recreating freedom — for the seed, for seed keepers, and for all life and all people. When we save the seed, we also reclaim and rejuvenate knowledge — the knowledge of breeding and conservation, the knowledge of food and farming.
Uniformity as a pseudo-scientific measure has been used to establish unjust IPR monopolies on seed. Once a company has patents on seeds, it pushes its patented crops on farmers in order to collect royalties.
Humanity has been eating thousands and thousands (8,500) of plant species. Today we are being condemned to eat GM corn and soya in various forms. Four primary crops — corn, soya, canola and cotton — have all been grown at the cost of other crops because they generate a royalty for every acre planted. For example, India had 1,500 different kinds of cotton, now 95 per cent of the cotton planted is GMO Bt Cotton for which Monsanto collects royalties. Over 11 million hectares of land are used to cultivate cotton, of which 9.5 million hectares is used to grow Monsanto's Bt variety.
A common question is: Why do farmers adopt Bt cotton which harms them? But farmers do not choose Bt cotton. They have to buy Bt cotton as all other choices are destroyed. Monsanto establishes its seed monopoly through three mechanisms:
Make farmers give up old seed, called "seed replacement" in industry jargon.

Influence public institutions to stop breeding. According to information received through RTI, the Central Cotton Research Institute did not release cotton varieties for Vidharba after Monsanto entered with its Bt cotton seeds.

Lock Indian companies into licensing agreements.
---
---
The Seeds Of Suicide: How Monsanto Destroys Farming
"It is this system that Monsanto has created of seed monopoly, crop monocultures and a context of debt, dependency and distress – which is driving the farmers' suicide epidemic in India. This systemic control has been intensified with Bt cotton. That is why most suicides are in the cotton belt. The highest acreage of Bt cotton is Maharashtra, and this is also where the highest farm suicides are. According to P Sainath, who has covered farmer suicides extensively: "The total number of farmers who have taken their own lives in Maharashtra since 1995 is closing in on 54,000. Of these, 33,752 have occurred in nine years since 2003, at an annual average of 3,750. The figure for 1995-2002 was 20,066 at an average of 2,508." Suicides have increased after Bt cotton was introduced. The price of seed jumped 8,000 percent; Monsanto's royalty extraction and the high costs of purchased seed and chemicals have created a debt trap."
---
7. Farm Subsidies, A Hundred Billion Dollar a Year International Extortion and Protection Racket
The Money Farmers How Oligarchs and Populists Milk the E.U. for Millions – The New York Times
"CSAKVAR, Hungary — Under Communism, farmers labored in the fields that stretch for miles around this town west of Budapest, reaping wheat and corn for a government that had stolen their land.
Today, their children toil for new overlords, a group of oligarchs and political patrons who have annexed the land through opaque deals with the Hungarian government. They have created a modern twist on a feudal system, giving jobs and aid to the compliant, and punishing the mutinous.
These land barons, as it turns out, are financed and emboldened by the European Union.
Every year, the 28-country bloc pays out $65 billion in farm subsidies intended to support farmers around the Continent and keep rural communities alive. But across Hungary and much of Central and Eastern Europe, the bulk goes to a connected and powerful few. The prime minister of the Czech Republic collected tens of millions of dollars in subsidies just last year. Subsidies have underwritten Mafia-style land grabs in Slovakia and Bulgaria.
Europe's farm program, a system that was instrumental in forming the European Union, is now being exploited by the same antidemocratic forces that threaten the bloc from within. This is because governments in Central and Eastern Europe, several led by populists, have wide latitude in how the subsidies, funded by taxpayers across Europe, are distributed — even as the entire system is shrouded in secrecy."
---
How Billions In Tax Dollars Subsidize The Junk Food Industry
"Childhood obesity rates have more than tripled in the past 30 years, an alarming public health development that is contributing about $150 billion a year to the overall cost of U.S. health care.
Almost one in five children aged six to eleven are seriously overweight, making them highly vulnerable to heart disease, diabetes and other serious illnesses.
At the same time, Congress and the Department of Agriculture are spending more than $1.28 billion annually to subsidize the crops that are used as additives in manufacturing cookies, candies, soda pop and other highly popular junk food that arguably are among the primary contributors to childhood obesity. The sweet, fatty and calorie-rich Hostess Twinkies alone contain 14 ingredients made with highly subsidized processed ingredients, including corn syrup, high fructose corn syrup, corn starch and vegetable shortening.
---
A Disease for Profit Food System
---
Seed Monopolies
---
Food Monopolies
---
---
---
---
---
Land Use
Only a small amount of land is needed to provide all of the grains, fruits, and vegetables that humans require for food (77m Acres).
Almost twice as much land is used to provide feed for livestock (127m Acres).
And about 8.5 times as much land is used for livestock (654m Acres).
Totaling the amount of land used for animal feed and the land used for grazing livestock is more than 10 times the amount of land that is needed to feed everyone with fresh grains, fruits, and vegetables.
---
Flu Factories
Flu Factories
---
Factory Farming
Factory Farms
Dairy is Scary – Industry Explained in 5 Min
What's Wrong with Eggs? The Truth About the Egg Industry
Turkey Day
Food Matters
---
Monsanto
The World According to Monsanto
---
GMOs
A Genetically Modified Society
---
Glyphosate
Bayer, Glyphosate, Beer, Wine, and Pizza
---
Something Strange About the Doomsday Seedvault
---
Dirt! The Movie
---
Food Inc.
---
Corn / High Fructose Corn Syrup
King Corn
---
Sugar: The Bitter Truth
---
Food Waste
In the US, 30% – 40% of the food supply goes to waste and ends up rotting in a landfill. "In the United States, food waste is estimated at between 30-40% of the food supply. This estimate, based on estimates from USDA's Economic Research Service of 31 percent food loss at the retail and consumer levels, corresponded to approximately 133 billion pounds and $161 billion worth of food in 2010. This amount of waste has far-reaching impacts on society:" www.usda.gov/foodwaste/faqs
---
The US spends $1.3 billion annually disposing food waste into landfills. (Schwab, 2013) USDA – 'The Estimated Amount, Value, and Calories of Postharvest Food Losses at the Retail and Consumer Levelsin the United States' www.ers.usda.gov/webdocs/publications/43833/43680_eib121.pdf?v=41817
---
Food and Agriculture Organization of the UN – Global Initiative on Food Loss and Waste Reduction: "Roughly one third of the food produced in the world for human consumption every year — approximately 1.3 billion tonnes — gets lost or wasted. Food losses and waste amounts to roughly US$ 680 billion in industrialized countries and US$ 310 billion in developing countries." www.fao.org/save-food/resources/keyfindings/en/
---
AGRICULTURE AND FOOD SOLUTIONS
---
Boycott the Monopolies
---
Industrial Hemp
---
The Hemp Revolution
Industrial Hemp Solutions
Hemp For Victory – US Government Video (1942)
Why Hemp Was Made Illegal