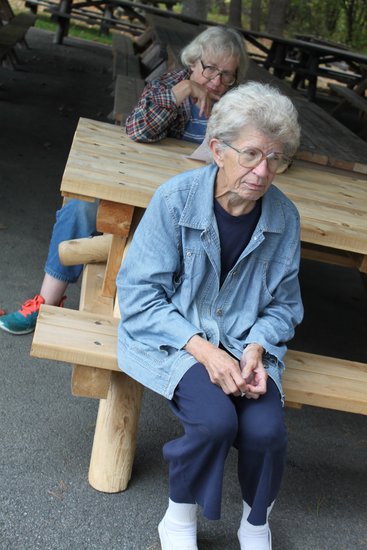 ~ Elderly sisters stray: Arrested with 45 cats in camper – The Altamont Enterprise
… the Stannard sisters were arrested for failure to provide sustenance to animals, and had 45 cats taken away, an orange tabby circled them as they sat at a picnic table at the town park on Swift Road.
The cats
The Stannards have cared for cats for as long as they can remember.
"We grew up in a time when it was OK to have multiple animals," said Shirley.
When Shirley moved into the trailer park in 1999, she had eight cats. "That was fine with Mrs. Kissel. She encouraged the tenants to take in strays, as long as the animals were cared for," Shirley said.
"When I moved in, I had four," recalled Frances of her move in June 1999. "I acquired two more along the way so I had six."
But, more recently, the sisters started adding to their combined 14 cats. "We just kept gathering cats," said Frances.
"It recently snowballed because there were so many strays," said Shirley. She surmised that people often dump unwanted cats at mobile-home parks.
"They'd show up and be hungry," said Shirley. "I've never been a person who could turn away an animal in need. That's one of my downfalls….When you care, you try to do what you can. Sometimes you make wrong decisions."
The arrest
On Sept. 23, the Albany County Sheriff's Office was contacted by a staff member at the Delmar Animal Hospital who was concerned about the number of cats the hospital had euthanized for the Stannards over the past few months, according to a release from the sheriff's office.
"It was Zipper," said Shirley, naming the first in the recent spate of ill cats the Stannards have had to deal with. Zipper, a 13-year-old female, had been one of Shirley's original pet cats; she had a cancerous growth. "It was getting towards the end of life and I took Zipper to the Delmar Animal Hospital. They euthanized her." Shirley said it cost over $100.
"Then Freddy — he was 14 — died unexpectedly in his sleep." He, too, was taken to the animal hospital to be cremated. "I was devastated," Shirley said of Freddy's death. "Then one of the strays died in his sleep."
He, too, was cremated.
"You don't have your own yard to bury in," said Shirley. "I didn't feel I had anything to hide…The next one — so quickly, it threw us in a tizzy — "
"He was 17," Frances finished the sentence for her sister. "Chucky. He ate and drank that day. He loved it up here. He loved to be outside….We fed all the cats every day and took them out. They were never without food or water."
Chucky died over Labor Day weekend, the Stannards said. "There was no place we could take him," said Frances, because of the holiday.
"He died in his sleep. We took him to be cremated that Tuesday," said Shirley. "Another stray died in its sleep. That was the clincher."
"Maybe they thought we were killing them off," said Frances. "We wouldn't do that.."
When the Stannards went to get gas in Slingerlands, someone told them the sheriff's office was looking for them because they had too many cats.
"I called the sheriff's right away," said Shirley. "I could have disappeared that day, just left town. I wasn't trying to run away. I know there were mistakes made."
On Monday, Sept. 29, as the Stannards were parked in the Hannaford lot in Voorheesville to bank and shop, they gave sheriff's deputies permission to look through their camper.
"Investigation revealed there were 45 cats living in deplorable conditions in the trailer and did not appear to be in good health.," said the release from the sheriff's office. "Numerous cats were in obvious distress, including several that were missing eyes and others that appeared to be suffering from diseases. At least one of the cats was pregnant."
"They took pictures and asked us all kinds of questions," said Frances. "We told them the truth."
About "the strong odor of cat urine and feces" the police noted, she said, "We were just going to the Laundromat that day to get everything done."
"The officers were very nice," said Shirley.
At first, the sisters thought they would be able to keep their original pets, the old cats.
"They took every single one," said Frances.
All 45 cats were removed by the Mohawk Hudson Humane Society in Menands for evaluation.
"Talk about devastation," said Shirley.
The aftermath
"Sometimes you do the wrong things when you're under a lot of emotional pressure. I do care what people think," said Shirley.
The Stannards don't have a television but they have heard reports of their arrest on the radio. They were bothered by some reports that they are a couple rather than sisters but more so by the charge — one count of failure to provide sustenance of animals, which is under the state's Agricultural and Markets Law.
"We always, always gave them food and water," said Shirley.
As they listened to reports, they tried to learn what they could about the condition of the cats.
"The important thing is, if they're getting what they need and not tossed to one side," said Shirley. "It's hard enough losing them."
They worried that humane society staff and others might not understand that, except for their original 14 cats which the sisters had owned and cared for for years, the other cats came to them with many problems — some near starvation, others crippled or blinded.
"We didn't cause those problems," said Shirley. "We tried to help them."
The Mohawk Hudson Humane Society did not return calls from The Enterprise seeking comment.
Asked why they didn't take the stray cats to a shelter for help, Shirley said they had tried calling rescue groups, which said they could take no more cats. "They were filled up," said Frances. The Stannards worried that large shelters would kill the cats, they said.
After Monday's arrest, Frances said, "I haven't slept good since. I try to eat, but can't."
She stands about 4 feet, 10 inches tall and, in the best of times, weighs no more than 100 pounds.
"We loved our animals; we'd had them for years," said Shirley.
The Stannards will now wait to appear in New Scotland Town Court on Oct. 23. "We don't know what will happen in court," said Shirley.
Asked if they still plan to move south, she said, "Things have been so terrible lately, it's hard to make a long-term decision. Some of the desire and good feeling about taking off has kind of died."
"I just miss our cats," said Frances. "I see them everywhere."
She cried when she said how nice the arresting officers had been. "They apologized," she said. "Sorry isn't always enough."
~ Stannards assigned a lawyer and court date – The Altamont Enterprise
~ Stannards have new lease on life – The Altamont Enterprise
~ Make room at the table for those in need – The Altamont Enterprise
She also said they were "flabbergasted" to read in The Enterprise that 30 of their cats were euthanized at the Mohawk Hudson Humane Society where the cats were taken when the sisters were arrested.