Jeff Bezos is the world's wealthiest person for the third year in a row. He's worth $113 billion, buoyed by a 15% rise in Amazon's shares since our 2019 list.

Bill Gates keeps his spot as number two richest, followed by luxury goods tycoon Bernard Arnault, who nudged out Warren Buffett to move into the number three spot for the first time. Alice Walton, an heir to the Walmart fortune, is the richest woman, ranked No.9 at $54.4 billion.

The biggest gainer in dollar terms is Qin Yinglin, the world's richest pig breeder. He's ranked No. 43 and is worth $18.5 billion–a $14.2 billion jump since the 2019 list, after shares of his Shenzhen-listed Muyuan Foods nearly tripled as the African swine flu reduced the supply of pigs and drove up prices.

Altogether, 267 people who made last year's list have dropped off as businesses faltered; among the most notable drop-offs is Adam Neumann of WeWork. Another 21 people died. Still, Forbes found 178 newcomers hailing from 20 countries, including some, like Zoom Video Communications' founder and CEO Eric Yuan, whose service is booming amid our current shelter-in-place reality. The U.S. remains the country with the most billionaires, with 614, followed by greater China (including Hong Kong and Macao), with 456.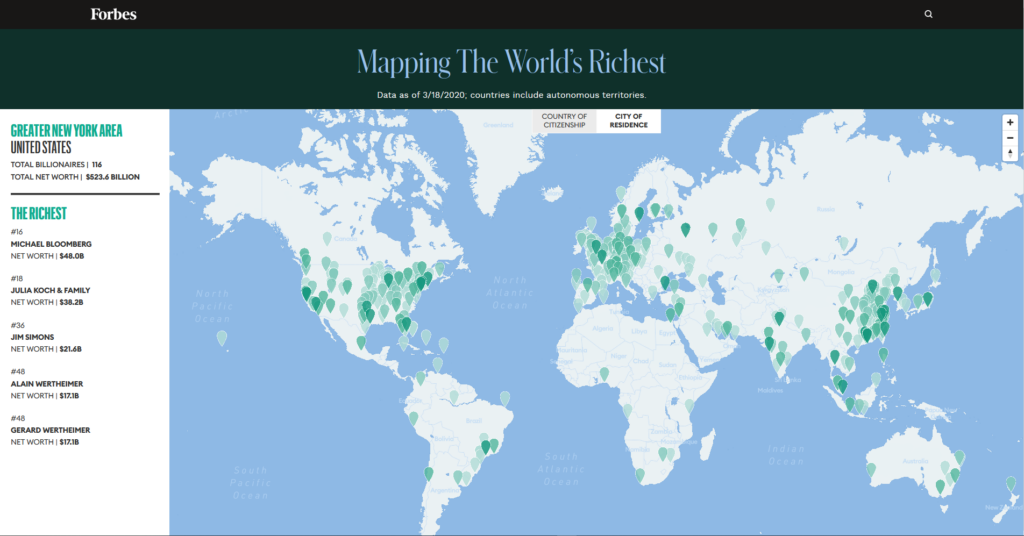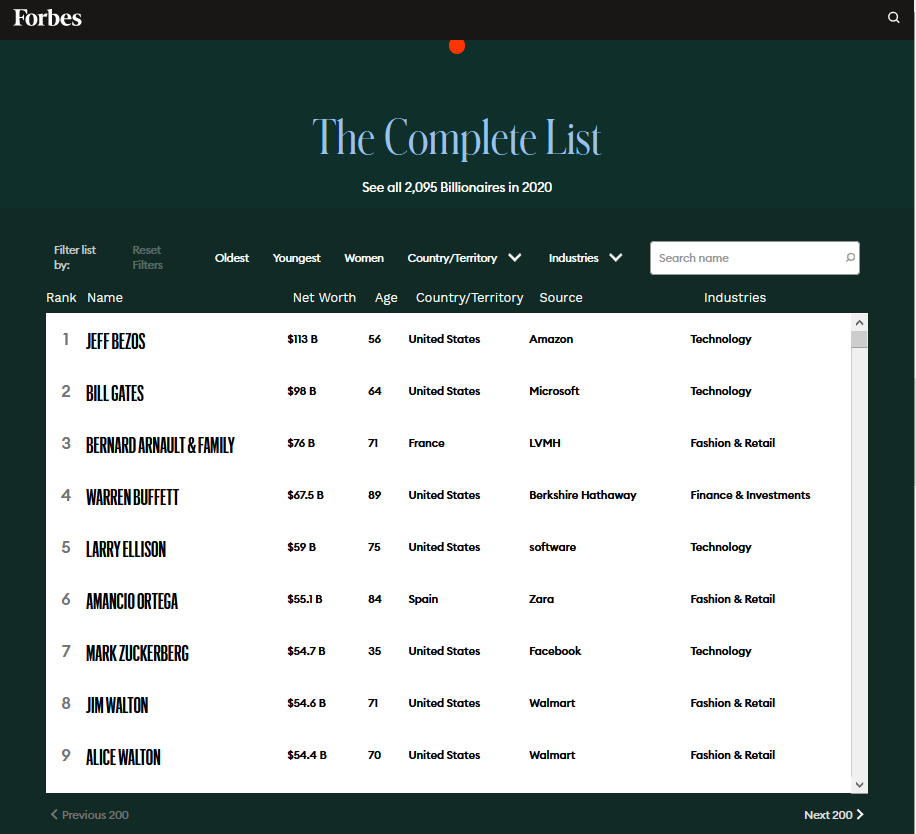 ---
---
What Do the Super-Rich Spend Their Money On?
While there are many millionaires in the world – the extravagantly rich class of billionaires boils down to only around 2200.
That's 0.00003% of the world's population.
They are more than just one in a million – they are 1 in every 3.4 million.
How do people become billionaires?
According to an article in Forbes, the highest percentage of billionaires (about 33%) come to their fortunes the old fashioned way – they inherit it. But there are other ways for those who weren't "to the manor born" could build massive wealth.
Of the current Billionaires
14% are bankers, financiers and hedge fund managers
11% are in fashion or retail
10% are in real estate
9% in manufacturing
9% in tech (including Jeff Bezos and Bill Gates)
---
---
How The World's Billionaires Got So Rich – (Forbes)
Many of the individuals on Forbes' 2018 World's Billionaires list, for instance, got rich by handling other people's money. The finance and investments industry—including private equity owners, hedge fund managers and discount brokers—helped produce more billionaires than any other. Altogether the sector held 310, or around 14%, of the fortunes on our 2,208 person list. Billionaires in finance topped the ranks in countries ranging from Brazil to Indonesia.
See below for the list of the industries most represented on Forbes' 2018 World's Billionaires ranks:
| | | |
| --- | --- | --- |
| Industry | Number of Billionaires | % of total |
| Finance and Investments | 310 | 14% |
| Fashion and Retail | 235 | 11% |
| Real Estate | 220 | 10% |
| Manufacturing | 207 | 9% |
| Technology | 205 | 9% |
| Diversified | 194 | 9% |
| Food and Beverage | 165 | 7% |
| Healthcare | 134 | 6% |
| Energy | 94 | 4% |
| Media and Entertainment | 73 | 3% |
---
Starting with the annual income, Bezos took home $1,681,840 in total compensation from Amazon in 2019, which included $81,840 in base income and $1,600,000 in other compensation. He made $140,153 a month, $35,038 a week, $5,005 a day, $208.56 an hour, $3.48 a minute, and $0.058 a second last year.
Working with the increase in Bezos's net worth, you can calculate what he makes per second this year. Bezos has added $67.4 billion to his net worth so far in 2020 as of Aug. 12 or over a span of roughly seven and a half months. He is making about $8.99 billion a month or $2.25 billion per week this year. Breaking the amount down more, Bezos is making about $321 million a day, $13.4 million an hour, $222,884 a minute, and $3,715 a second this year.
---