Federal Indictment: Drug Company Officials Bribed Doctors To Prescribe Opioid | NBC Nightly News
---
Money, dinners and strip clubs: How pharmaceutical executives bribed doctors to prescribe dangerous fentanyl drugs – 60 Minutes
---
Pharma companies offer even women to bribe doctors – Times of India
---
Pharmaceutical exec guilty of bribing doctors to push opioid – Associated Press
---
Pharmaceutical firms paid to attend meetings of panel that advises FDA, e-mails show – The Washington Post
---
"Two whistleblowers at a pharmaceutical company responsible for one of the largest drug price increases in US history said the company bribed doctors and their staffs to increase sales, according to newly unsealed documents in federal court. The effort, the whistleblowers said in a lawsuit against the company, was part of an intentional "multi-tiered strategy" by Questcor Pharmaceuticals, now Mallinckrodt, to boost sales of H.P. Acthar Gel, cheating the government out of millions of dollars.The price of the drug, best known for treating a rare infant seizure disorder, has increased almost 97,000%, from $40 a vial in 2000 to nearly $39,000 today.
The Justice Department has now intervened in the case after conducting its own extensive investigation — a sign that the government believes the allegations levied by the whistleblowers are credible. In a statement to CNN, Mallinckrodt did not deny the accusations but said the fault lies primarily with Questcor.The bombshell allegations lay bare what the whistleblowers say was a culture designed to sell the drug at all costs, from lying to the Food and Drug Administration to offering bribes to doctors. The price increase, combined with an aggressive sales push in rheumatoid arthritis, multiple sclerosis and other areas, has pushed the drug's annual sales over $1 billion."
---
CNN Exclusive: The more opioids doctors prescribe, the more money they make
"As tens of thousands of Americans die from prescription opioid overdoses each year, an exclusive analysis by CNN and researchers at Harvard University found that opioid manufacturers are paying physicians huge sums of money – and the more opioids a doctor prescribes, the more money he or she makes.
In 2014 and 2015, opioid manufacturers paid hundreds of doctors across the countrysix-figure sums for speaking, consulting and other services. Thousands of other doctors were paid over $25,000 during that time.
Physicians who prescribed particularly large amounts of the drugs were the most likely to get paid.
Doctors who write the most opioid prescriptions get paid the most money by pharmaceutical companies that make opioids.
More than 200,000 doctors who wrote opioid prescriptions received payments from pharmaceutical companies that make opioids."
---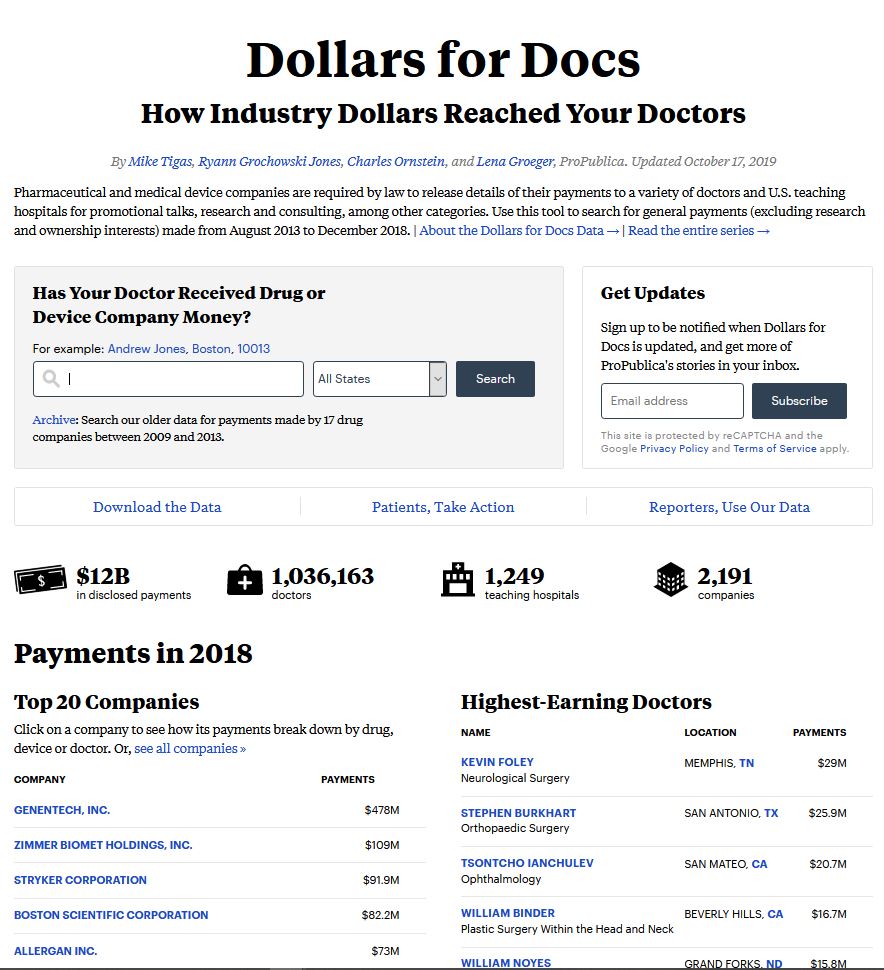 Pharmaceutical and medical device companies are required by law to release details of their payments to a variety of doctors and U.S. teaching hospitals for promotional talks, research and consulting, among other categories. Use this tool to search for general payments (excluding research and ownership interests) made from August 2013 to December 2018. | About the Dollars for Docs Data → | Read the entire series →