Family Farms are Being Taken Over by Big Corporations
The decline of the small American family farm in one chart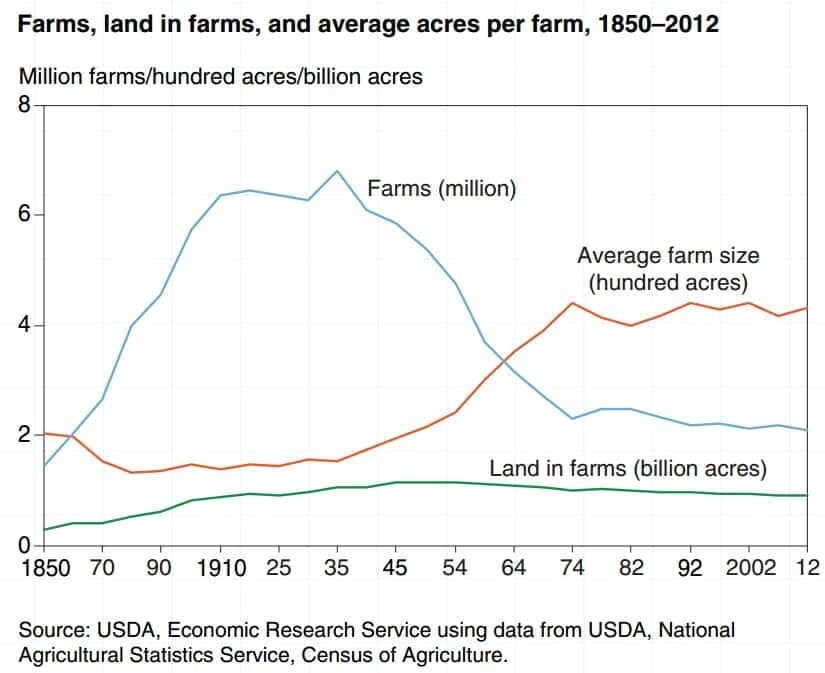 "Peak farm, as it happens, happened almost 80 years ago in the United States. The number of farms in the country has fallen by some 4 million between then and now — from more than 6 million in 1935 to roughly 2 million in 2012. Meanwhile, the average farm size has more than doubled, and the amount of total land being farmed has, more or less, remained the same.
The big farms have only gotten bigger over the years. As of 2011 — as is true with much of the country's wealth — the vast majority of America's farm land was controlled by a small number of farms. The top 10 percent of farms in terms of size account for more than 70 percent of cropland in the United States; the top 2.2 percent alone takes up more than a third."
---
"According to the Census of Agriculture," a United States Department of Agriculture report revealed, "the number of U.S. farms fell sharply until the early 1970s after peaking at 6.8 million in 1935…By 2002, about 2.1 million farms remained."
"The American Farmland Trust estimates an acre of U.S. farmland goes into development every two minutes, while Environment Colorado estimates the state lost 1.26 million acres of agricultural land between 1997 and 2002," The Denver Post reported. "This loss averages 690 acres per day in Colorado, the third highest in the nation."
Statistics Canada said the situation there is similar, as the amount of farms surveyed by the census "continues to drop, according to data from the 2006 Census of Agriculture, declining 7.1% to 229,373 farms over the five-year period between the censuses…This represents 17,550 fewer farms than in 2001.
As small family farms are squeezed out of existence, investment groups and equity firms are buying more and more land, according to a Reuters article.
In the agricultural industry, certain products can be produced cheaply in large quantities, stored over long periods, and shipped easily. These items must be heavily subsidized to keep prices artificially low on the world market. Yet subsidies—money paid to industries to produce goods more cheaply for a nation so that it can better compete in the global market—can harm the family farm.
"Since 1970, [U.S.] farm subsidies have totaled $578 billion, according to the Historical Tables of the U.S. budget…Roughly 90% of commodity payments go to farmers raising grains and oilseeds (wheat, corn, sorghum, soybeans), cotton and rice; they represent about a fifth of farm cash receipts," a Newsweek article stated.
Subsidies can lead to chronic overproduction and dumping of surpluses on the global market, which often forces smaller, non-competitive producers out of business.
The abandoned land is then swallowed by larger conglomerate farms."
---